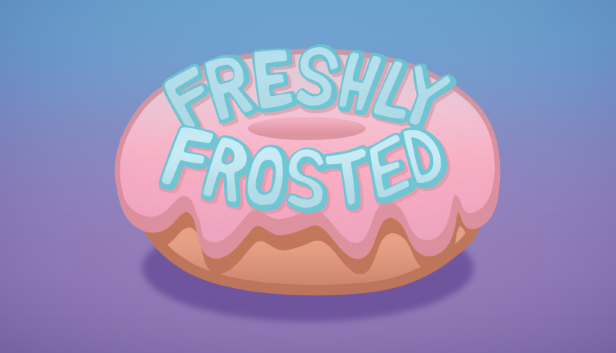 Factsheet
Developers:
Ty Taylor
Based in Seattle, Washington
Amanda End
Based in Seattle, Washington
Ally Overton
Based in Seattle, Washington
Release date:
Q4 2019
Website:
freshlyfrosted.com

Press / Business Contact:
press@qag.io

Social:
twitter.com/freshly_frosted

Pricing:
$9.99 USD
£7.19 GBP
€8.19 EUR
$11.49 CDN
Platforms:
Steam (PC/Mac/Linux)
Nintendo Switch
Xbox One
PlayStation 4
Languages:
English, French, Italian, German, Spanish, Hungarian, Dutch, Portuguese, Russian, Turkish, Czech, Swedish, Norwegian, Danish, Finnish, Polish, Japanese, Simplified/Traditional Chinese, Korean, and Thai
Description
Freshly Frosted is a cute, relaxing, complex puzzle game that requires patience and a good amount of thinking to beat. The player is brought into a world filled with cute factory style machines requiring you to make the best donut. Each level is a stand-alone instance of gameplay, with the player placing conveyor belts to deliver donuts. Frost donuts, spray whipped cream, top with sprinkles and a cherry your way to the end.
Features
A Dozen Dozen: Freshly Frosted delivers 12 unique worlds, each with 12 levels and unique mechanics, contraptions, and confections.
Satisfaction Guaranteed: Your donut factories are just as satisfying to watch in-motion as they are to build, and you'll be dancing to the upbeat soundtrack.
Puzzling Perfection: Think outside the donut box as you build increasingly complex cuisine machines.
The Quantum Astrophysicists Guild
The Quantum Astrophysicists Guild was created in 2011 by Forbes 30 Under 30 inductee Ty Taylor. QAG's first game, 'The Bridge', was released in 2013 to major critical acclaim, being featured in numerous game competitions and festivals around the world, including the PAX 10, IGF, the Indie Game Challenge, Unity Awards, and many more. QAG's second title, 'Tumblestone', was released in 2016 with a Metacritic score of 91, and was also a winner of the PAX 10, Intel Level Up competition, and more. Each of QAG's games to date has over 2M downloads across all platforms. In 2019, QAG announced that it will be publishing third-party indie titles, leading with 'Almost There: The Platformer', which was launched on February 19, 2019 on all platforms. After 'Almost There: The Platformer' was released QAG signed 'Deleveled' and 'Sail Forth' both titles from the Seattle, WA area.