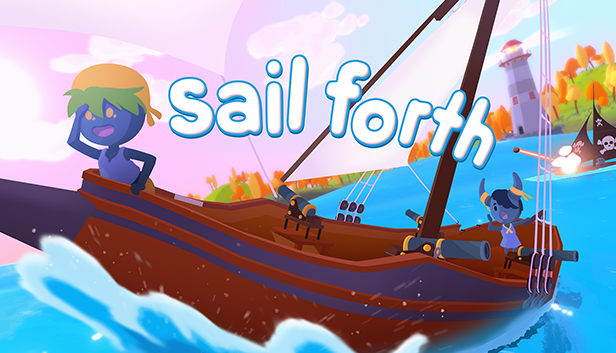 Description
Sail a fleet of customizable ships across an ocean whose ancient depths have swallowed the key to the mysterious past. Befriend fishfolk to expand your boat crews, take up arms against petulant pirates, and chart a course across an expansive watery world. Will you answer the call of High Adventure?
Features
Explore the Deepblue: Put the wind to your back and cast out into High Adventure over a vast ocean spanning dozens of eccentric regions. Discover countless isles bursting with their own flora, fauna, friendly folk, and fearsome foes.
Command a Sailing Fleet: Build and manage a custom cadre of specialized vessels to match any personality and play style. Buy, equip, upgrade, and modify your ships' armaments to face off against the toughest privateers this side of the Eclipside.
Fathom a Mystery: Join forces with the myriad inhabitants of this watery world to uncover a terrible secret buried in the depths of the Deepblue.
Sail Forth into Adventure: Tack and jibe and heave and cut with a sail and wind system designed with enough attention to realistic sailing physics to excite naval enthusiasts while also remaining deeply accessible to anyone and everyone.
Festive Vector
Festive Vector is a one-person development studio (aka David Evans) based in Seattle, Washington. From inception, David's projects focus on creating feelings of positivity, hope, and just good ol' fun. After some time spent at Microsoft he sought to develop his first title, Bicyclism Extra Pedal. Since then, David's sophomore project, Sail Forth, has won various awards leading up to its release including EGX Official Selection 2019, Dreamhack Best Action Adventure 2019, and Seattle Indies Expo Official Selection (2019, 2020).
The Quantum Astrophysicists Guild
We've always been indie, and we want to give indie studios the deals they deserve. The Quantum Astrophysicists Guild was founded in 2011 and received global critical acclaim for our early titles The Bridge and Tumblestone. In 2019, we focused on collaborating with indie developers publishing on PC and consoles to provide opportunities on every platform available. Recently publishing critically acclaimed games Cozy Grove and Freshly Frosted further expanded our library.
Awards and Recognition:
Indie Live Expo - Official Selection - 2022
IndieX - Official Selection - 2021
EGX Rezzed - Official Selection - 2019
Indie MEGABOOTH - Official Selection - 2019
Dreamhack - Best Action/Adventure Game - 2019
Seattle Indies Expo - Official Selection - 2019 & 2020