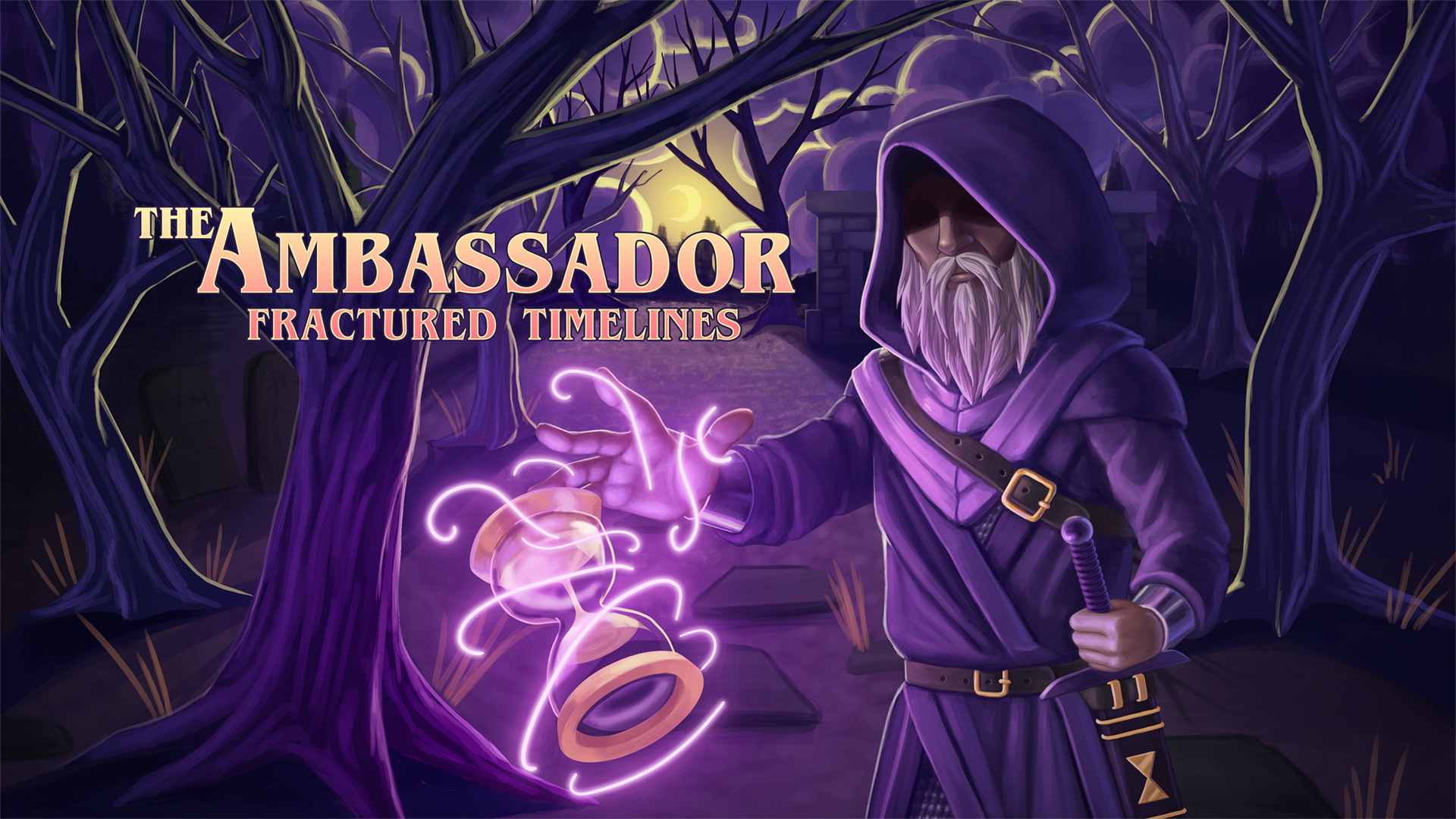 Factsheet
Developers:
tinyDino Games
Based in Chicago, Illinois

Publisher:
The Quantum Astrophysicists Guild
Based in Seattle, Washington

Release date:
August 13, 2020
Website:
tinydinogames.com

Press / Business Contact:
press@qag.io

Social:
twitter.com/tinyDinoGames

Pricing:
$14.99 USD
£11.84 GBP
€13.44 EUR
$20.13 CDN
Platforms:
Steam
Xbox One
Nintendo Switch
Languages:
English, French, Italian, German, Spanish, Dutch, Portuguese, Russian, Japanese, Simplified Chinese
Description
The Ambassador: Fractured Timelines is a twin-stick fantasy shooter centered around the ability to stop time. You'll play as Gregor, a newly recruited member of the Eternal Fellowship, and an Ambassador of Time. Just as you are learning to use your newfound powers, the Fellowship's capital city is mysteriously destroyed! As one of the only remaining fellows, you must find those responsible and return Tamaris to its former glory.
Features
Fast paced, strategic combat designed to stretch your time-stopping abilities.
A vast world composed of fortresses, tall mountains, dense forests, and the smoldering remains of Tamaris.
An action-packed campaign spanning five unique environments, two timelines, and 55 levels.
An armory of weapons, magic trinkets, and armor, all more unique than the last.
20 hidden journals containing the history of the realm.
Tough as nails Horde Mode after completion of the campaign.
Multiple difficulty settings ranging from easy and accessible to head-smashing-into-desk mode!
Awards
"Gamer's Voice Nominee" - SXSW, San Antonio, 2020
"Finalist" - Indie X, Lisbon, 2020
"Best Action Adventure" - DreamHack, Dallas, 2019
"Best Action" - DreamHack, Austin, 2018
The Quantum Astrophysicists Guild
The Quantum Astrophysicists Guild was founded in 2011 and received global critical acclaim for their early titles, 'The Bridge' and 'Tumblestone.' In 2019, the company broadened its focus to collaborating with indie developers publishing on PC and consoles. Given Quantum's experience as an indie dev, they strive never to offer deals they wouldn't accept themselves before becoming a publisher. The studio recently published 'Roundguard,' making it the fifth game in their library. You can look forward to award-winning games 'Sail Forth,' and 'Deleveled' among the many games releasing from Quantum this year.
Team
Ryan Throw
Game Design, Programming

TJ Acre
Game Design, Artist